June 18, 2017
After releasing Iím Singiní Jesus to radio I was thrilled to see it take the # 1 spot on the Music to RadioFM Top 25 chart for 2 weeks in a row in May and the #2 spot on the May Top100 FM chart Ö.what a blessing! My sincerest thanks to the stations and DJs for downloading my songs for airplay.

I will be performing next week in Salmo BC on Saturday June 24th at the Salmo Music in the Park Festival. I will be kicking off the evening at 4:00PM and the music will go until 7:00PM. I hope to see you at city park for a great night of music!
---
May 1, 2017
Happy Spring! I am very excited to be releasing 2 songs, Iím Singiní Jesus and the title cut from my album, Itís Time to radio.

If you would like to hear them, I invite you to click on the Airplay Direct tab on the left hand side of the site. To purchase individual digital downloads, please click on CD Baby or to buy the CD, just visit my store. Thank you!
---
March 1, 2017
As we head into Spring I'm feeling happy and very blessed. After releasing 2 songs from my album, Itís Time to radio in January, both have made it on to top charts. A special thanks to Radio Music FM and Christian Music Weekly and I invite you to check out all the charts on the Station Play tab.
---
Dec 21, 2016
Thank you all for your continued support and encouragement this year and I send my warmest wishes for a very Merry Christmas and a wonderful and blessed New Year!
---
Dec 07, 2016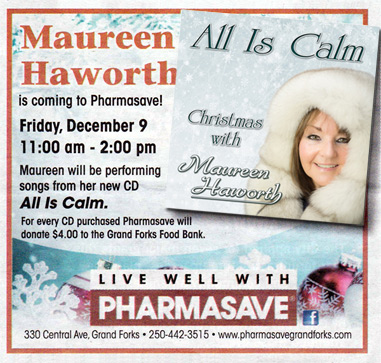 ---
Nov 14, 2016
My new Christmas CD is now available at the store on this website for a physical CDÖ Iíll mail it right to you! Also, for digital downloads click on the link for CDBaby. They are also available for sale in Grand Forks B.C. at Hairworx Studio and Pharmasave and at The Welcome Center/Lisaís Bistro at Christina Lake.
Many thanks to everyone who made my time and performances on Vancouver Island last weekend such warm and welcoming experiences. I sincerely appreciate it!
---
Oct 29, 2016


I'm so excited that my new Christmas CD All is Calm is now released and will soon available on this site's store as well as in some brick and morter stores and other traditional online stores.
---
Oct 11, 2016
I am excited to be heading back to Vancouver Island and will performing a Gospel Music concert on Nov. 4th at the Youbou Community of Peace Church, dinner at 5:00PM, concert at 6:00PM, no cover charge.
On Nov. 5th. Iíll be at Cassyís Coffee House in Youbou, performing Christmas and dinner music, dinner from 5:00- 8:00 PM, tickets are $22.50. Then Iím off to Nanaimo at the First Baptist Church on Nov. 6th from 6:00 - 7:30 PM, for a Gospel Music concert, refreshments to follow, no cover charge. Looking forward to seeing you!
---
Sept 11, 2016
Thank you to everyone who came out to enjoy Salmo B.Cís first annual Music Day In The Park. It was a beautiful evening of music and ministry. A special thanks to Mike Adkins and John Phillips for all your hard work in putting this special event together and for inviting me to be a part of it.
---
August 15, 2016
I am very pleased to be performing in Salmo B.C. at the first annual Music Day in the Park on Saturday, September 10th, sponsored by the Men of Valor to be held at the Salmo KP Park from 5:30 - 8:30 PM.
Come on out for great evening of music, hope to see you there!
---
June 05, 2016
I am thrilled to be performing at the Gospel Music Festival in Pass Creek (near Castlegar) on July 16th. The show is from 6:30 - 9:00 PM at the exhibition grounds. I will be sharing the stage with The Daae Family from Saskatchewan, Gilles Parenteau from Nelson and more. Come and bring your lawn chair, sit back and enjoy an evening of great Gospel Music. Look forward to seeing you there!
---
May 04, 2016
Ray Sargent of Sunday Side Up Radio played a couple of our songs on his shows recently and I sent him a thank you. This was his response.

"Without wonderful artists like you two there would be no shows."

So thank you Ray Sargent of Sunday Side Up Radio. Ray was the first DJ to ever play songs from the Haworths CD and now mine. Rick and I are sincerely grateful for his constant support over the years. Thanks so much, Ray!
---
April 29, 2016
I mention, with great sadness, that, Jerry Cramer, founder and PR director of CMG Global Radio, passed away last week. Jerry was a wonderful champion of indie artists and songwriters, helping and promoting all of us.
CMG has over 10,000 members reaching out to 60 countries with it's global radio network and syndicated radio show distribution. Jerry started it all and he will be missed very much. May God bless his family and friends during this difficult time.
---
February 18, 2016
I would like to say a big 'Thank You' to CMG Global Radio for their continued support of my music. Along with the honour of receiving the 2015 Female Gospel Artist of the Year Award and 2015 Female Gospel Song of the Year Award, I have had the privilege of garnering over 12 #1 placements on their Top 20 Charts for my songs. Thanks CMG!
---
January 25, 2016
I continue to be in the Christmas spirit as I am in the studio getting The First Noel completed for my new Christmas CD, due out this year. It will be a 12 song, unplugged, traditional carol CD and I'm having a great time working on it!
---
December 31, 2015
I want to thank everyone for all your wonderful support and encouragement in 2015 and send you my very best wishes for a happy, healthy and blessed 2016!
---
December 14, 2015
I am very honoured that Jesus Is Always There was chosen as the Best Female Gospel Song of The Year by CMG Radio. Many thanks to Team CMG, the DJ's, the listeners. Thanks to my team, my husband Rick Haworth, Ron Mahonin, Dave Favell and Dave Bayer for doing such a wonderful job! I am so very blessed. I thank you all so much for giving me the opportunity to praise God through my music; I give Him all the glory for the songs He has given to me. Congratulations, also, to the other Best Of The Year Picks!
---
November 12, 2015: Update

I had an amazing time at the Covenant Awards in Edmonton and although I didn't receive one, I am so honoured to have been nominated along with so many talented artists.

Congratulations to the winners and thanks so much to the Canadian Gospel Music Association for promoting Christian music.

I give many thanks to my team....my husband Rick, Ron Mahonin, Dave Favell, Dave Bayer, and Ollie Strong for their stellar talent on my CD, "It's Time". The evening was a great time for me to reflect on what a blessing it was to have worked with you all.

To my family and friends for their love, support, and encouragement, I am so thankful and blessed to have you in my life.

To my beautiful sister who was with me at the awards...thanks for your navigational skills that kept me from getting lost.


Thank you, God, for making this all possible, for the path youíre leading me on, I give you all the glory. Blessings to you all!


---
October 18, 2015: New Album
I am very excited to be back in the studio working on a new unplugged, mellow Christmas CD filled with beautiful traditional songs!

---
September 15, 2015: Covenant Awards
I am so honoured and blessed! I've just been nominated in two categories in the upcoming 37th Annual Covenant Awards!


COUNTRY ALBUM OF THE YEAR
Maureen Haworth - It's Time

and


COUNTRY SONG OF THE YEAR
Breathe In My Direction
(Songwriter: Maureen Haworth)
My heartfelt thanks to everyone involved for making this possible!
---
September 2015: Lake Cowichan Trip Update
Many thanks to Gary and Pauline Dyck, and Don Kitsch for all your kindness, hospitality, time and effort in the organization of my performances in Youbou and Lake Cowichan. It was a wonderful, fun and blessed time!
Thank you to Pastor Dale at the Lake Cowichan Baptist Church, The Youbou Community Church, Pastor Terry at the Lake Cowichan Christian Fellowship Church and Cassyís Coffee Shop in Youbou for having me come sing for you.

Thanks to everyone who came out to enjoy my music; I sincerely appreciate it!
---
Lake Cowichan dates confirmed
Thanks to DJ Gary Dyck at CICV Radio in Lake Cowichan BC, I am excited to be performing around the Lake Cowichan/Duncan area at various venues over the weekend.

Saturday August 29th 2015 Performing at Cassie's Coffee Shop at 10375 Youbou Road, Youbou BC at 2:00 PM

I will be singing a few songs in Lake Cowichan's Central Park on South Shore Road for Summer Nights from 5:00 - 6:00 PM

Sunday August 30th 2015 Cowichan Lake Baptist Church, 8259 Beaver Rd, Lake Cowichan, during morning service @10:30 AM

CONCERT: Youbou Community Church, 10648 Youbou Road, Youbou BC @ 2:00

CONCERT: Lake Cowichan Christian Fellowship Church, #10 King George St, Lake Cowichan BC @ 7:00 PM Hope to see you there!!!

---
July 2015 - Lake Cowichan coming soon!
I am excited that thanks to DJ Gary Dyck at CICV Radio, I will be performing various venues in the Lake Cowichan/ Duncan area of Vancouver Island at the end of August. More details to come!
---
June 2015 - Female Gospel Artist of the Year Award
I am so thrilled to have received the CMG Global Radio 2015 Female Gospel Artist Of The Year Award. I am honoured and blessed. I share this award with the amazing artists who work with me. Without you I could never have achieved this; thank you all so much!
---
May Days, May 2015
Thanks to everyone who came out to The Rutland May Days main stage music. I had a super time sharing my songs with a great audience.Thanks also to JUICE FM Radio for the live interview!
---
May 2015
Many thanks to GMC Global Radio and the listeners, Glory Train To Heaven from The Haworths' Weíre Gonna Raise The Roof CD was #1 on the CMG Global Radio Gospel/Indies Top 10 Chart this month.
---
May 2015
Thanks to the stations and DJís for downloading my songs for airplay from Airplay Direct, putting me in the #18 position on the Airplay Direct Christian/Gospel Top 50 Chart with The Haworths in the #12 spot.
---
More News on Facebook
If you would like to keep up with whatís going on, visit me on facebook at The Haworths musician/band (and please give us a like while youíre there! ) or my personal page at Maureen Haworth.
---
Jan Puryear Promotions (April 2015)
Jesus Is Always There from my solo album, Itís Time, is now being played on 15 reporting Gospel radio stations in the southern U.S.A. It was released at the beginning of March and is under review by more stations this month. Thanks Jan!
---
Rutland May Days (April 2015)
I will be at The Rutland May Days on Saturday, May 16th. performing taking the stage in the afternoon between 4:00 - 6:00 PM. Thereís lots of things going on, so bring your family and come and have a fun time!
---
Evangel Church (April 2015)
A huge Ďthank youí to Pastor Eldon Schulz for inviting me to perform for The Legacy Builders Group at the beautiful Evangel Church in Kelowna B.C., Canada. We had a wonderful evening and thanks to Brian for providing such great sound!
---
GASC Honor Finalist (April 2015)
From my new CD, Itís Time, "I Want What Sheís Got" placed as an honor finalist in the Christian / Inspirational category for the 2014 Great American Song Contest with over 1500 entrees in 44 different countries.
---
Promotion (March 2015)
"Jesus Is Always There", the first song off CD, Itís Time, has just been released by Jan Puryear Promotions in Nashville, Tn. to the reporting Gospel stations. A few others on it are Gordon Mote, Larry Gatlin and the Gatlin Brothers and Canton Junction.
---
You Tube Video (March 2015)
Thanks to my producer, Ron Mahonin, for creating a cool sing-along video for me to introduce my new single release, "Jesus Is Always There". Check it out on my Video page.

---